traveldreamer wrote:The Sharrows still seems a good solution.

How about a larger sharrow in the centre of the tram track and also to the left of the tram track a smaller sharrow indicating the width of the safe non-dooring zone say with a solid line beside each bike sharrow indicating the furthest left one should go.

This will tell motorist that bikes can use the entire road just like motorists but most bikers would choose to be in the left lane when it is safe to do so.
It strikes me that this will just create an ugly and even more confusing road space (for drivers and cyclists).
Overseas in many cities they are working to use uncertainty to the benefit of pedestrians and cyclists by making streets look less like roads and more like a living area;
by removing traffic controls and most road markings
. These are different types of urban areas shown below, but this is what it looks like often. People are much more comfortable to interact socially and motor vehicles are invited as guests rather than the dominant user. It changes the whole psychology of the street. The message to drivers is that this is
pedestrian space
and they are sharing it with them in the vehicles. Pave the street, use street furniture and plantings, impose a 30kmh speed limit.
Look familiar at all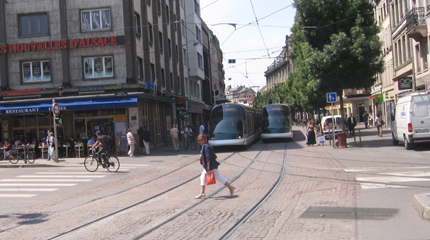 I reckon you could do a marvelous job with
Glenferrie Rd, Malvern
redesigned as a
shared space
, working
like this
Another
example and some opinions
on its success.