To celebrate our new touring forum, a few thoughts on my trip to Canada ...
Short version:
Vancouver to the Arctic
2000 km in 19 riding days (24 total)
Longest day: 155km
Climbing: 16,300m
Lightly supported, mostly camping
Awesome drivers, good roads, wilderness camps, few bears
Nineteen riders from Canada, Europe, the US and Oz gathered in Vancouver in July for the inaugural
Tour Arctic
. Their palmares were way longer than the pre-tour haircuts - transcontinental rides in Africa, Europe and Canada plus a couple of PBPs. And with the usual diversity, we had musos and some seriously funny people for entertainment into the long twilights of an Arctic summer.
I knew this was the perfect trip for me as soon as I saw it – solid days, rest days cruising the Inside Passage that I'd always wanted to see and the Dempster Highway of cycling blog infamy. Still, it seemed a long way away on the way to Tulla.
The bike arrived safely in LA and Vancouver and went back together nicely, leaving two days for a couple of funny recce rides with the other Aussie learning the wrong side of the road. We agreed that the locals would last about 15 minutes in Australia if they expected our drivers to be so polite and safe.
Then we all fronted for the orientation session with its bear wrangling video, so I fell asleep trying to remember the signs of bear demeanour.
The trip was lightly supported, in that the truck/van carried our gear but we were self sufficient on the road with route sheets. Being a new tour, Cycle Canada owner Bud rode sweep most of the time while the cook and driver (later swapped out for a wilderness guide/bear whisperer/cook/violinist Eliel and his sister) took the van. Some days on Vancouver Island and through the Yukon, we didn't see the van from morning til night, but that changed on the Dempster – there
is
no other road so the truck usually passed us late morning.
As it turned out, it felt like three distinct tours of roughly a week each.
Week 1
started in peak hour with a cross-town ride to the ferry and we spent nearly a week traversing Vancouver Island. Some brutal headwinds meant we struggled to pedal downhill at 20 km/h at times, but the upside was very warm days, deer in two of our campgrounds and a woodpecker soundtrack. A heavy thud and quivering trees confirmed two bears very close to the road one day but someone saw a bear most days. Ports and fishing villages gave way to rolling forest as we headed inland and north to charming Port Hardy, where the young couple on the trip announced they planned to marry in Dawson City in a few days.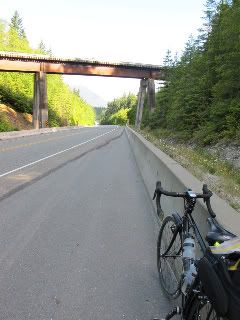 Vancouver Island's traffic and Woss Lake.
We spent three days getting from Port Hardy to Skagway - two days and nights cruising the Inside Passage and Alaskan panhandle on big ferries and a rest day in Prince Rupert. Full marks to Cycle Canada for managing some complicated logistics around ferry schedules and the US border. Late sunsets, wildlife talks, humpbacks, two nights in real beds and lounging around eating on the ferries - tough rest days.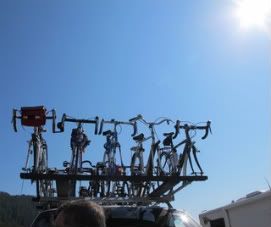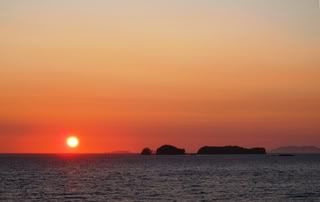 Bikes had to go up onto the van for one ferry; about 7pm on the Inside Passage and (below) some whale spotting.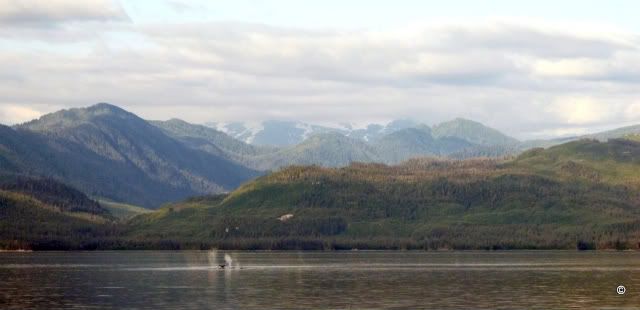 Week 2
took us from Skagway Alaska to Dawson City in the Yukon, starting on the dock with a 20km climb to White Pass and the US/Canadian border at 1000m. This has to be one of the world's best one-day rides - seriously steep in parts and cold up top but the road down the other side was deserted as we rolled by glacial lakes and snow capped mountains back into Canada. It was fantastic riding all the way to Dawson – warm, good roads, little traffic. Even the Canadians marvelled that there's just no one there - besides Whitehorse, the occasional little town or backcountry store and lazy canoes on the Klondike and the Yukon. We broke out the bear spray and rode in small groups through the Yukon, keeping one or two others in sight if not actually riding together.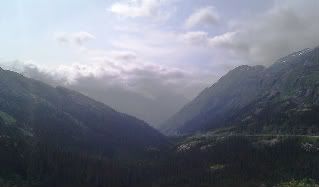 Climbing White Pass out of Skagway, and the US-Canada border up top.
10pm en route to Dawson, with Robert Service recitals after passing Lake Laberge.
Our rest day in Dawson City was spent preparing the bikes for the Dempster the next day (lube, stripping guards and swapping out tyres for me) and attending the wedding. It was a funny night and eased some apprehension about the Dempster. After all those nights training in the dark, it was hard to believe we'd be there the next day.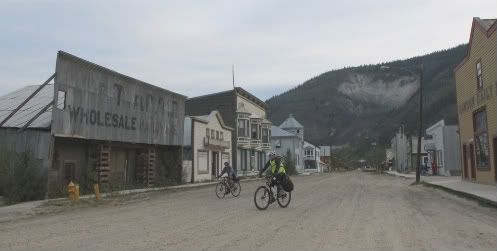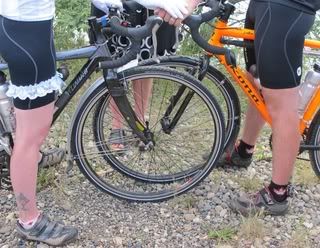 9am Dawson City. The wedding.
The Dempster, week 3
For those unfamiliar with the Dempster, it's 740 km of unsealed dirt and gravel connecting Dawson and Inuvik via the northern wilderness. It's built well above the permafrost which would otherwise melt and subside and you can only cross the two big rivers by ice road in winter and ferry in summer. We'd heard south of Whitehorse that it was closed for several days by a washout but it thankfully reopened before we arrived. The only services are roughly half way at Eagle Plains Hotel, with a small Gwich'in community just off the highway 200 km further on.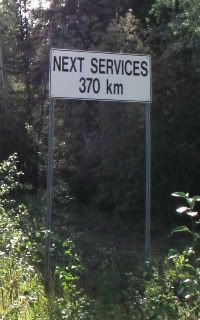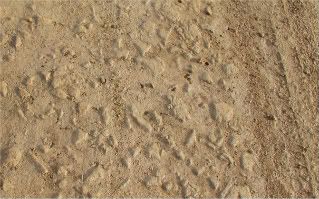 As it turned out, the Dempster was a great ride, although we were very lucky - hours a day of spectacular scenery, gentle streams, boreal forest, a wandering treeline and a couple of crossings of the continental divide. There was little traffic and for the most part, the surface was very good, even though it changed often - sandy, hardpack rock base, flinty and every kind of gravel.
We had used campgrounds most nights further south, but on the Dempster we'd agree a rough distance for the day and roll off the road when we found the truck at a campground or set up for wilderness camp.
The first few days took us through the Tombstone range to the Ogilvie Mountains and finally the escarpment to Eagle Plains, climbing Seven Mile Hill late one day. After rain and fresh roadworks (literally riding around the grader), it was more Seven Mile Mud. We camped high on the tundra that night amid the lichen, berries and rose hips. A clear night and a couple of RVs left us wheel tracks that were rideable next day – soft and patchy but rideable.
Northern Ogilvies and Seven Mile Hill.
Some mud, some holes but a good unsealed road.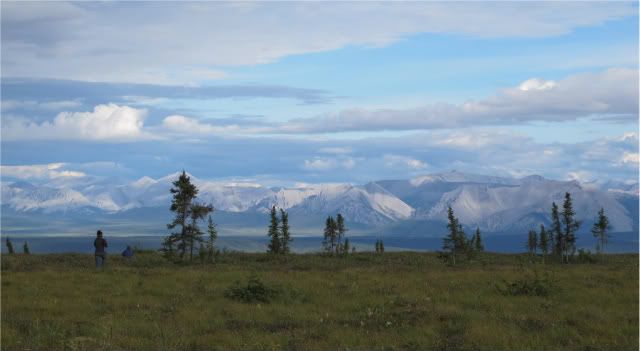 Overlooking the Ogilvies near camp.
Having made extra distance most days as insurance against mishap, we got to stay a night at Eagle Plains Hotel which was fun. The following day was probably the best of the trip – crossing the Arctic Circle
, bears, a climb to the Yukon-Northwest Territories border and another wilderness camp. With news of an aggressive grizzly, we had arranged to meet the truck a couple of times while crossing a valley that afternoon. We did see some bears and our guide escorted one off the road and chased a mum and cub from camp that night, but they weren't hungry.

Approaching the Arctic Circle.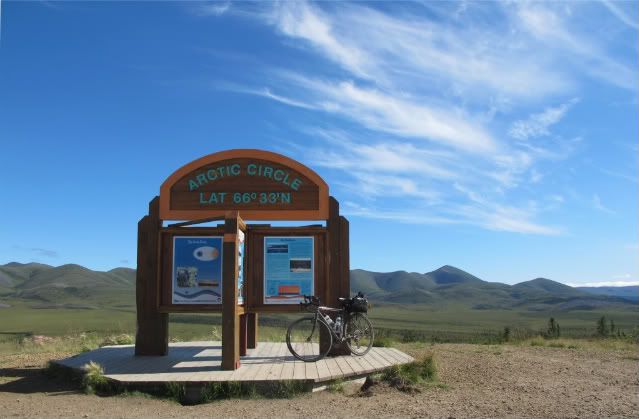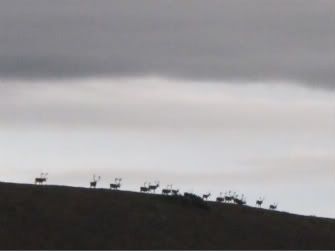 Caribou above camp, and steel grate decking.
We'd been told the road improved in NWT, but that depends on your wheels. NWT has spent a lot of money on the Dempster but it's deep sand through the Richardsons – a smooth ride on four wheels but hard work on two when it's damp.
I was sad to descend the mountains although the Mackenzie delta wasn't dull - two ferry crossings, a small Gwich'in interpretive centre and a drizzly visit to Fort McPherson, chatting to some local kids on bikes, stamping our Dempster tourist passports and scoffing chips for salt. Having made good time, our last day was a short 50km into Inuvik. Bitumen!
After 796 km in eight days on the Dempster. The Mayor presented certificates, council staff came to our final dinner and they organised a tour of the sights for us next day. The town CEO picked up a few of us one night walking to the pub as well, so we got to hear about the good stuff like utilidors and see what happens when you trench into permafrost. Great little town; very impressed.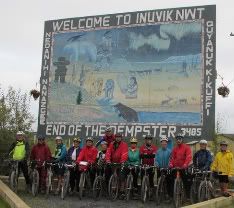 Inuvik is the end of the road in summer (there's an ice road to Tuktoyaktuk on the Beaufort Sea in winter which features in a series of
Ice Road Truckers
). I got a flight to Tuk and so paddled in the Arctic and visited the community freezer, still used by some families. The old freezer collapsed some years ago and they've had to truck in rock via ice road in winter to protect the foreshore. An amazing place - very little leaves so there's an assortment of broken vehicles and bits, contrasting with early warning radar and communications.
The community freezer at Tuk (10m straight down). The beige swirls are silt trapped in the smooth ice walls. Supplementary lighting by Ay Up.
The Beaufort Sea.
Bikes and gear
Our riders had a variety of steeds, largely cyclocross and tourers, but also a rigid mtb, lefty 29er and flat bar singlespeed. As usual for me, finding a bike was an issue but I eventually called Darren
Baum
and it was sorted in 10 minutes – a light steel tourer with mtb wheels. It goes up anything, anywhere, all day and loves the mud. I used 28 mm Durano and Gran Prix slicks, with a Fatboy spare (the 28s are noticeably faster) with 35 mm CX Pros on the Dempster.
We carried all our water most days – around 3L some days for me as we became increasingly remote, but I had treatment tablets on the bike just in case. The bugs weren't as bad as expected, but we probably missed the worst of them thanks to an early season. There were quite a few wasps through the Yukon but there were only thick swarms (really thick) around Pelly Crossing.
The Power Monkey solar charger kept up with the Garmin, which got down to 34% battery some days, but it would have struggled keeping a smartphone charged all the time. I used it mostly as a backup camera so it wasn't an issue. And where possible I topped up from mains.
The bike was padded and boxed in reinforced cardboard (good instructions from Gran Prix) which worked fine, with extra card as impact protection on the way over. Coming back, AQIS wanted a peak (bike was clean) and there was a love note from TSA, but the only signs of several flights home were a few paint chips and a misaligned brake, so pretty happy with the baggage handlers. I was a couple of kgs over weight both ends but they didn't charge me; they seemed to think that almost squeezing a bike into the weight limit was close enough.
The mud and dust meant sluicing and lubing the drivetrain twice on the Dempster. One bike turned ss along the way but a roadside bath restored some shifting. We made a few tube offerings, but not many and there were no major bike issues. Still, one of the guys narrowly missed a large rock thrown up by a gravel truck which would have smashed a wheel, so you're aware that stuff could go very wrong without much trouble. Especially if it rained.
Traffic
Canadian drivers were great. We had little traffic but you could see or hear the trucks and RVs coming up north and the log trucks and others on Vancouver Island were polite and attentive. A few gravel trucks were hoofing it one dusty day on the Dempster so it was smarter to stop while they passed (the roadsides drop off sharply) but that's all. That said, we would have been less of a surprise to them emerging from the dust or mist (below) than a solo tourist. I only had one problem with RVs and I think it was due to the tailgater being unable to see me as we met an oncoming semi.
All up, loved it and can't wait to go again. And looking forward to some more tour reports.