Last Thursday for the commute home, I carried in my backpack a 101-year-old cast iron alarm clock, carefully wrapped in clothing I'd worn during my day at work. The clock arrived home safely, despite the odd road bump along the way. Here's a photo of the clock: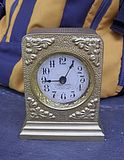 Not so long ago, I would have begrudgingly forsaken the bike for either car or PT when carrying precious or odd/slightly oversized* cargo but nowadays I find it difficult to give the bike up for even one day despite slight discomfort to me or risk (albeit small) to the article.
I'm wondering if others do similar and if so, what are some of the strangest things you've transported (or have seen being transported) on a bike, maybe with the assistance of panniers, racks, baskets etc. A child's seat and bottles of red are a couple of things I recently remember seeing on other threads.
*
I won't carry stuff that would be considered dangerous to either me or other road/path users.