Picked up an old 70s racer frame from baudman as I'd like to make a summer cruiser - this frame has really slack angles, 1020 tubing and weighs a ton.. Pretty sure with 700c wheels, I can fit 35c tyres, mudguards *and* a frame pump behind that seat tube
I had drooled over the Pashley Guv'nor for a bit until I saw the price.. upwards of $2k! Decided to use that as inspiration, along with rat rods and old boardtrack racers. Wasn't sure whether to go for single speed, Sturmey S2C kick-shift or 3-spd hub - decided to keep it simple to start and picked up a cheap set of DA16/Quando wheels from eBay/Reid Cycles, nothing really lost at $80 for the set.
Build specs at the moment -
Frame: Flat grey w/ "old gold" lug lining
Headset: Tange Levin ISO
Wheels: Quando Flip-Flop hub laced to DA16 rims
Brakes: Dia-Compe 750 Centrepull
Brake Levers: Dia-Compe 188 Reverse Levers
Saddle: Brooks B17 Std Honey
Saddlebag: Zimbale 2.0L
Just have to find North Road style handlebars and some nice fluted cranks/BB - might head down to the swap meet next weekend..
Here it is mocked up with some spare 700c wheels: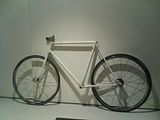 Cleaned and sanded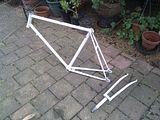 After paint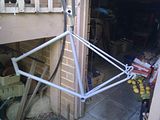 Have to pick up things at my delivery depot (aka the parentals house
) and get some more build photos this weekend.
Brendan