Snuffy wrote:Crossmarks in wet clay is baaaaaaad news. I recall one particularly wet day of fireroad climbing around the 'Nongs, my Crossmarks just became orange slicks. Their mudshedding ability leaves a lot to be desired....
Aaah, good thing I still have a pair of
Panracer Spikes
on the tyre rack, which I can swap to if conditions demand.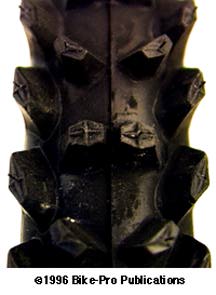 Cross-marks to Spikes? Sublime to ridiculous
I have never yet experienced conditions that demanded. If I recall correctly, I have only I used them once, in the sloppiest conditions I've ever dared to ride the Dandenongs. Still, the ground was far too hard. The knobs kept flexing and bending and they were skittish all over the place. So I hung them up and went back to my far-more-sensible Velociraptors
tim