So we picked it all up yesterday on a brief break in work schedules, but didn't have time to test it out.
Had a free 30 minutes today so hooked it all up and took it down the street.
Here's MrSqueaza having a go
And myself (with apparently a very bad helmet position
)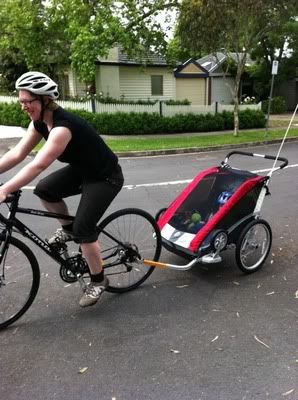 The verdict:
Says it all, really
The bike on 250metres riding feels nice - I think we've got the set-up for something workable for both of us - we'll probably change seat/seatpost instead of just the height because the seat on it wasn't so comfortable (i.e. wide!) for me. My long arms, and MrSqueaza's long legs and shorter torso/arms mean it feels like a good fit for both of us!
Not the slinkiest racing-machine for sure, but it felt comfortable braking down the hill, and stable as anything to ride. We can experiment with narrower more slick tyres I guess if we're finding it too hard going, but it's going to be for pootling and for utility trips so not planning on any great speed.