Kona Honkey Inc.
Chrome Moly frame
CF forks
105 running gear
BB7 cable disks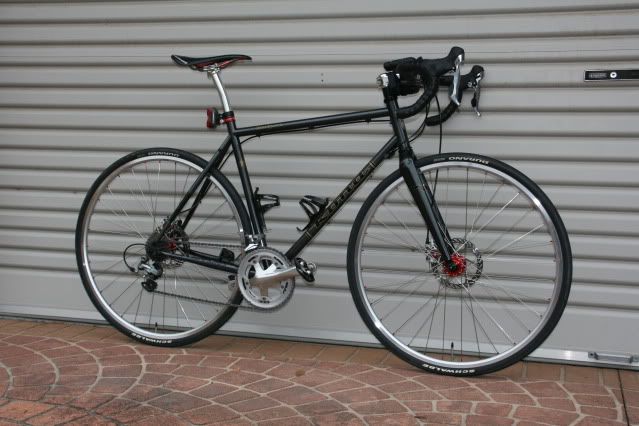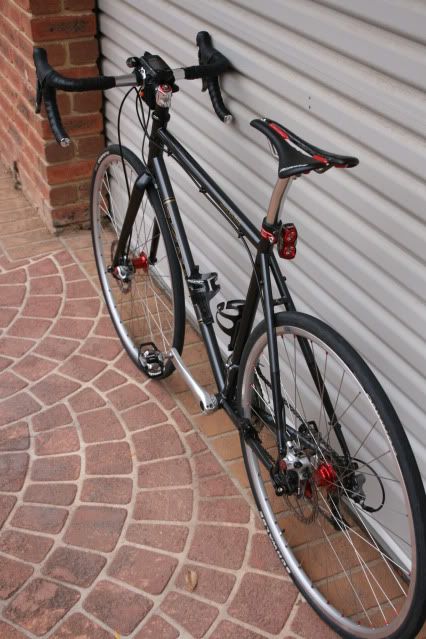 Chosen because I wanted a steel frame for the durability, practicality and comfort factor over a variety of surfaces (commute to work is all tarmac, commute home is a mixture of roads, Eastlink trail and gravels paths). Plus it's seen duty towing a trailer and then tag-a-long
I also wanted braze on's for the option of guards / panniers, though I rarely use either (I use clip on SKS guards when the need arises to throw a rear guard on).
Upgrades from stock include:
Custom wheels - Mavic OP rims laced to Hope Evo Pro hubs running Schwable Durano 28's
Thomson Elite setback post
Specialized Romin Ti saddle
Hope seat post collar
Things I'm not so keen on:
The Kona drop bars are too short in the drops offering only one hand position - but not a biggie as I don't use the drops much on the commutes
Tyre clearance is tight'ish with the 28's. I can run CX tyres in a 30, but with almost no mud clearance. An oversight in design in my view, but probably not intended as a pure CX machine and not a deal breaker for my use anyway.
Weighs in around 10.5kg as pictured, but rides smooth, reasonably fast and handles beautifully on gravel.